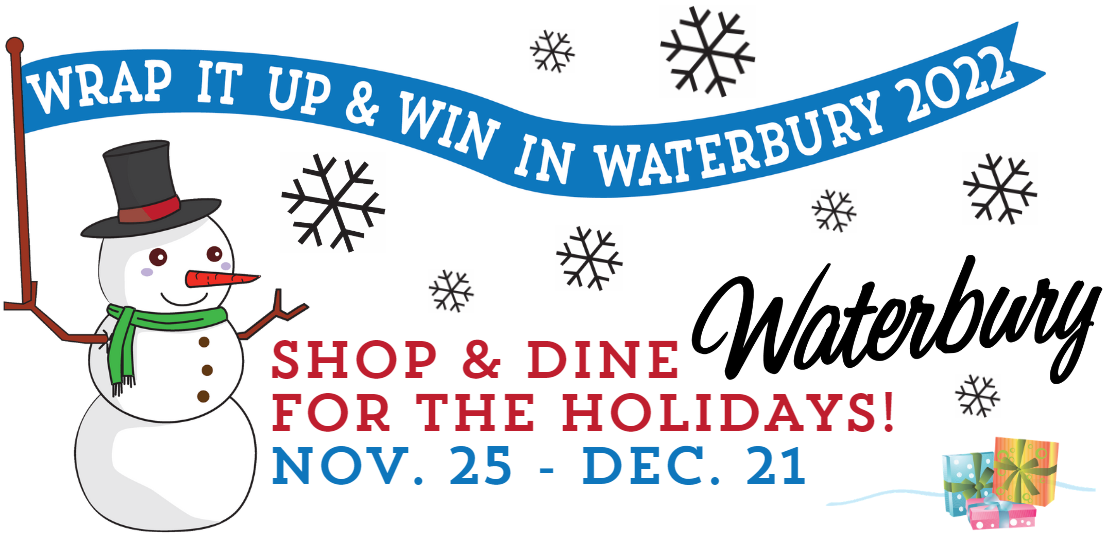 WRAP IT UP & WIN-NERS!
The holiday shopping season is almost here and so is Wrap It Up & Win! Shop and dine at 5 participating businesses between November 25 and December 21 for a chance to win nearly six thousand dollars in prizes to local businesses. Weekly drawings will be held on November 30, December 7, December 14, and December 21, and you can enter as many times as you'd like, so there are plenty of chances to win! View the list of participating businesses here, and return completed cards to Bridgeside Books, The Tiny Acorn, or Sunflower Natural Foods; cards must be turned in by the Tuesday before the drawing to be included.
The list of winners will be updated below after each drawing. Winners will be contacted by phone and gift certificates can be picked up at The Tiny Acorn during normal business hours.
Winners of the December 21 Drawing:
Larry Abrams
Deb Blanchard
Sarah Schoolcraft
Megan River
Anne Bongioran
Reed McCracken
Ginger Pierce
Ingrid Jonas
Amy S. Heskins
Emily Marotto
Brooke Haynes
Mindy Pistacchio
Lucy E. Pagan
Stephanie Brinkman
Katie Shanley
Ingrid Shepeluk
Molly Upton
Mark Moureau
Laura Thompson
Amy Herrick
Cheyenne Freeman
Marcia Sweet
Michael Zacharias
Mike Langlais
Kelley Hackeyy
Linda Schliebus
Chris Neville
Missy Semprebsy
Donna Collins
Audrey Quackenbash
Stephanie Burmester
Jeff Prucopio
Jeanne Galiano
Jack Revoir
Rachel Lavallee
Betsy Shapuo
Kristin Farrell
Winners of the December 14 Drawing:
Rebecca Slen
Rosemarie White
Michael Briggs
Ann Earle
Nicole Hynes
Amy Scharf
Nancy Oakes
Ingrid Shepeluk
Christina Parrilla
Ethan Cody
Vivian Fisk
Aubree Lee
Julie Morse
Sara Burczy
Sue Lapointe
Jessica Leal
Maureen McCracken
Anne Decker
Bonnie Darby
Eleanor Riggs
Emily Aswad
Melissa Sempelon
Lisa Sholk
Eric Nealy
Brenda Hudson
Bonnie Crelling
Pam Chisholm
Natalie Sherman
Heidi Dugan
Mike Langlais
Kathy Powell
Lindsay Barrett
Michael Zacharias
Heather Barrows
Jim Welch
Kate Renaud
Lester Barrows
Margaret Luce
Winners of the December 7 Drawing:
Brenda Greika
John Malter
Duncan McDougall
Marcia Sweet
Jack Revoir
Antoinette Maas
Larry Abrams
Ingrid Jonas
Paula Devereaux
Lois Hayworth
Serena Wilcox
Gabbi Heath
Brandon Dunn
Louisa Hayes
Kathy Powell
Rose Williams
Cat Allen
Patty Haverstick
Eleanor Riggs
Arty Whitehair
Ron Fox
Sandy Cahill
Bob Hammerl
Madison Suekert
Kristina Swinchoski
Laurie Rexford
Lea Fournier
Jodi Carpenter
Madaileine Kingsbury
Mark Frohman
Reed McCracken
Tammy Rost
John Gallagher
Karla Thomas
Laura Thompson
Bonnie Marshall
Mary Miller
Kathy Murphy
Winners of the November 30 Drawing:
Chris Laporte
Noreen Karcher
Jake Tobi
Susan Rickstad
Helen Hollenbach
Rene Morse
Betsy Shapiro
Robin Gecko
Natalie Sherman
Sandy Cahill
Katie Dain
Lorie Flynn
Jane Murray
Kasey Haskins
Catalina Sanchez
Brenda Greika
Ingrid Jonas
Tammy Smith
Donna Heney
Jack Revoir
Lea Fournier
Nicole Hynes
Grant Meixel
Mary Beth Sykas
Denise Corbeil
Stefanie Weigand
Hailee Reist
Jennifer Peterson
Megan McLean
Jason Reichert
Larry Abrams
Vivian Fisk
View the list of participating businesses and learn more about holiday promotions here.